Who Our Guests Are
---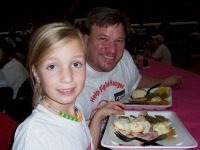 Those who come to rely on The Community Meal Program do so for many reasons - most of them having to do with some dimension of poverty. Some guests are on fixed incomes, such as Social Security, or are in low-wage jobs and use meals at Luke House to help stretch their food budgets. Some are homeless. Some lack cooking facilities in the place where they are staying. Some struggle with mental illness or an addiction or dependency. Some are looking to break a day's loneliness by eating with others.
The average length of time someone come to Luke House is about three months. Some rely on the program for several years, however, and some just pass through. Most guests have some sort of long-term connection to our community.
The crowd replied, "What do you want us to do?"
Luke 3:10-11 "If you have two coats," he replied, "give one away.
If you have extra food,
give it away to those who are hungry."
Hours:
Lunch is served
Monday through Thursday
11:30 a.m-12:30 p.m..

Dinner is served
Sunday through Thursday, 5:45 until 6:30 p.m.
Luke House Inc.
310 South Ingersoll Street
Madison, WI 53703-3739
(608) 256-6325

Contact us by Email: