Our Newsletter
Bake a bigger Christmas
Every year about this time - true to dog-eared recipe cards - you may find yourself faithfully baking amaretti, baklava, barquillos, benne, biscotti, kringle, krumkake, pizzelles, springerle, stollen or tuile. Or maybe you just prefer spritz or snickerdoodles.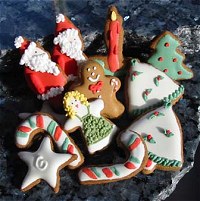 Whatever your family's preferences, your Christmas cookies are very likely more than the sum of their ingredients. Their scents and textures are the stuff of holiday memories within the circle of those you love.
This year, as you bake for Christmas, consider expanding that circle to include those who look to The Community Meal Program for hospitality. Make your Christmastime baking rituals even richer by adding a bit to your batches of special goodies so you can share some with those who come to Luke House for holiday meals.
A dozen or two of your home-made cookies, bars or candies will help ensure that we can offer each person who joins us for a holiday meal a plate of Christmas treats to take along. You'll know you're helping to make somebody's holiday more festive. Perhaps your own special family recipe will even evoke someone else's memories of happy Christmas celebrations long ago.
Please bring your cookies and other confections to Luke House during the week before Christmas. We'll be serving lunch and dinner on Christmas Eve day and Christmas, so you may also bring your treats on either of those days. Or call 256- MEAL to arrange another time. Please use a paper plate or container that won't need to be returned.
---
Hours:
Lunch is served
Monday through Thursday
11:30 a.m-12:30 p.m..

Dinner is served
Sunday through Thursday, 5:45 until 6:30 p.m.
Luke House Inc.
310 South Ingersoll Street
Madison, WI 53703-3739
(608) 256-6325

Contact us by Email: