Luke House  – The Community Meal Program
310 South Ingersoll Street
Madison, WI 53703-3739
How it Works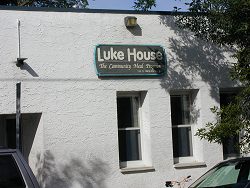 Each group of volunteers for a given monthly lunch or dinner chooses a menu, and each member of the group chooses an item to provide on a consistent basis. Providing the food for the meal is a group effort. Group members participate in the meal in different ways. Some people provide food and then come to Luke House to prepare, serve and share the meal. Others participate by regularly providing their meal item. They may come to Luke House occasionally, seldom or never, but they play a key part in this ministry of hospitality nonetheless. Volunteers commit to a level of participation and to providing consistently what they can comfortably afford to supply.
Wish List: Luke House Needs

As we enter 2019 the Luke House needs the usual items: food, wearable warmth, cleaning supplies, toilet tissue, bus tickets, stamps and Ice Melt for sidewalks. We have perennial needs … and if you are looking for a way to make a difference … often time's its beneficial to do what you do best. There are ways to bring "you" to the Community Meal Program without you even being there.
The Meal Program can be a simple extension of your family's table. Join with a group and make your meal part of ours. One such volunteer makes our meatloaf. Each time she slices a piece for herself and although she is not with us for dinner, she sits in her kitchen and eats her piece … and truly we are joined. The meal program has become an extension of her family's table. Another spends time helping with communications needs which can all be accomplished from remote. How we all use our resources to make a difference can be as individual as you. It can be simple, you don't even know how to cook. Serving the Community Meal Program can be a way of living out your faith and life sharing what you do best, your talents, your resources, and what is simply you.
Food
Rice, instant mashed potatoes, uncooked pasta & noodles, large cans of veggies & fruit, prepared meals, condiments, cooking oil spray.
Wearable Warmth
Gifts of new clothing, hats, gloves, scarves.
Cleaning Supplies
Bleach, laundry soap, dish washing soap.
Other Needed Items
Toilet tissue, bus tickets, stamps, Ice Melt for sidewalks.
& Your Prayers, Please
Pray for the Community Meal Program at the Luke House, for the people who gather here to share meals and for the ministry of hospitality.
The crowd replied, "What do you want us to do?"
Luke 3:10-11 "If you have two coats," he replied, "give one away.
If you have extra food,
give it away to those who are hungry."